Other works
Short Stories
I rarely write short stories. They need a very particular technique, with a startling or witty twist in the tail. Commissioning editors always ask for your series character too – whereas I prefer to attempt something different for variety.
NB – these are not by my regular publishers so I don't have information about whether they are still in print.
"Investigating the Silvius Boys" (1995)
(commissioned for the Nottingham Bouchercon): Romulus did Remus – but who did Romulus?
No Alibi, ed Jakubowski, Ringpull Press and Scorpion Limited Edition Classical
Whodunnits, ed Ashley, Robinson Publishing
Acquired by Kobunsha for Japan
reprinted in Murder through the Ages, ed Maxim Jakubowski, Headline, 2000. ISBN 0-7472-6617-4.
Published by La Masque in France, 2001.
"Abstain from Beans" (1996)
(commissioned for the CWA annual anthology): The death of Pythagoras, solved by Milo of Croton
Perfectly Criminal, ed Edwards, Severn House
Malice Domestic 6, Pocket Books, USA
Acquired by Kobunsha for Japan
"The Party may yet be Living…" (1998)
A story set in Birmingham (UK) in the Seventeenth Century
Past Poisons (a Memorial Anthology to Ellis Peters) ed Jakubowski, Headline Book Publishing
"Body Zone" (May 2001)
The Mysterious Press Anthology: Celebrating 25 years by the Editors of Mysterious Press. ISBN 0-89296-739-0.
Included in Great Stories of Crime and Detection, volume IV from the Folio Society.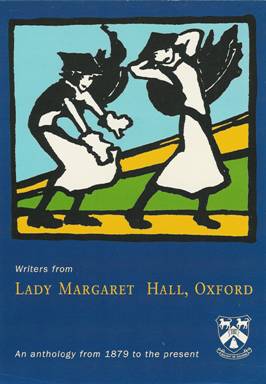 "The Short Story (with Critical Apparatus)" (1973 and 2001)
Published in 'Oxford Originals: writing from Lady Margaret Hall', an anthology of over 100 members of the college from its founding in 1879 to the present day. ISBN 0-9540929-0-2. Hardback, illustrated. All proceeds will go towards the LMH English Fellowship Campaign. Available direct from the college.
"Something Spooky on Geophys"
In Mysterious Pleasures, ed Edwards, the CWA Jubilee Anthology, published Little, Brown (November 2003), ISBN 0-316-72563-3
To be included in 'The Best British Mysteries of the Year (2003)', ed M Jakubowski, Allison and Busby, November 2004
"Going Anywhere Nice?"
In 'The Detection Collection', edited by Simon Brett (75th Anniversary of the Detection Club), Orion paperback, ISBN 0-75287-249-4
Scorpion Press Limited Edition, ISBN 1-873567 74
In Deadlier (100 of the Best Crime Stories written by Women) chosen by Sophie Hannah, Head of Zeus, ISBN 9781784975463
"Twice Tried, Twice Hung, Twice Buried" (BBC Radio 4)
"Zounds", in 'Deadly Pleasures' edited by Martin Edwards for the Crimewriters' Association
Severn House, Hardback ISBN 978 0 7278 83179
The Telemachus File in A Midlands Odyssey, ISBN 9780992758981, paperback 2014, Nine Arches Press
The Spook Who Spoke Again/Vesuvius By Night/Invitation To Die – these are novellas and have their own pages under Books.

Contributions
A Love Letter to Europe, Coronet (2019)
Howdunit In celebration of the Detection Club's Ninetieth birthday, ninety of its esteemed members share their experiences and advice about the art and craft of crime-writing. (Contribution by Lindsey on Style) Published by Harper Collins 2020 ISBN 97800083893
Time Out Guide to Rome, article on Crime in Ancient Rome (2005)
Life in Ancient Rome by Simon Adams, Kingfisher Knowledge (2005)
How to Write a Mystery A Handbook by Mystery Writers of America, edited by Lee Child, (includes Lindsey's Ten Tips for Aspiring Writers) Published by Scribner, ISBN 978-1-9821-4944-4 (2021)
Introductions
Is Skin Deep, Is Fatal, HRF Keating. Collins Black Dagger Crime (1995)
Sharpe's Tiger, Bernard Cornwell. Scorpion special edition (1997)
Green for Danger, Christianna Brand. Macmillan Classic Crime series (1999)
Crimewriters' Association Anthology Crime in the City, the Do Not Press (2002)
Tristram Shandy by Laurence Sterne, the Folio Society (available to Society members only), (2005)
"Count Belisarius" by Robert Graves, the Folio Society (2011)